How to motivate participants on animal welfare education?
Issue
If some educators feel involved with the question of animal welfare education, others consider the topic as useless, as a waste of time, or as having already been taken into consideration because it's impossible to teach breeding without considering animal welfare. Other teachers prefer to avoid speaking about animal welfare because the students may react negatively: "I prefer teaching animal welfare without using the word".
If the curriculum is not clear and doesn't mention animal welfare as a topic to be trained upon, the educator may not feel legitimate in teaching it.
Objective
For the trainer: to create motivation for the participants to become involved in a pedagogical approach related to animal welfare education
For the trainee: to feel an interest in animal welfare learning as a controversial topic
Our proposals
Pedagogical methods that promote motivation will only have a real effect if the trainer has a benevolent posture, is respectful of the participant's point of view, shows active listening, without judgement and has a soft position about the content. Allowing trainees to give their point of view and welcoming their point of view is not common. It can be a pleasant surprise for them. It is also important to be clear about the objectives of the training: not to pass on a message of good practice associated with animal welfare education, but rather to enable participants to consider how to take animal welfare education into account for their own comfort and motivation at work and how to imagine other possibilities that would seem interesting to them.
It may be necessary to allow for the expression of trainees' expectations, interests, obstacles and fears. It is preferable that even negative feelings can be expressed, rather than keeping them to oneself. They can then be questioned and, above all, welcomed. The trainer will be all the more able to bounce back on the representations that the participants have of the training itself. All the information collected from the participants will allow collective and shared definitions to be established.
In all cases, to publicly highlighting individual conceptions about animal welfare education can be a first step to driving motivation. But we observe that motivation increases particularly when we generate a discussion between the learners. The triggers for discussion can be: (1) sentences that are confusing or stereotypical, (2) one or several practices which are controversial, marginal, or a diversity of practices around animal welfare education as proposed on the Anicare website, (3) analysis of a practice proposed by one of the participants: the practice can be also considered as a drama and can be used in a drama through a drama-based-education (educators activities are full of drama), (4) an unexpected result from a student after a pedagogical approach.
Whatever the proposed approach, we seek to create cognitive and socio-cognitive conflict which can generate a need or an issue. It may then be interesting to mix audiences with different views and values on animal welfare education (teachers don't necessarily have the same points of view and the same pedagogical approaches as vets or farming advisors).
Tools
A
Q-sort
(Qualitative sort) usually stimulates exchange (of values and knowledge about animal welfare) within a group and leads people to raise questions.
Anicare offers several films of educators speaking about their own approach, we also consider it interesting to ask the trainees to put forward an analysis of their own approach. You can lead interesting exchanges between the trainees during a practice analysis group. The aim is not to judge the educator but to clarify his/her rationale. Respect for the educator who proposes the analysis of his/her own practice is an imperative.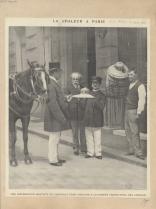 Pitfalls and recommendations
To attract trainees to a non-compulsory training course, the message used is important: development of an innovative pedagogical (out of the classical regulations) approach to teaching animal welfare by developing critical thinking, attentive thinking and creative thinking. We provide a toolbox for the project, which can be used for other educational subjects too.
Nothing is ever taken for granted. The trainer must remain attentive to changes in trainees' motivation levels and evaluate strategic moments which enable him/her to check their interest and any discomfort that may have appeared.
This type of pedagogical approach should be seen as a group trek. The trainer should make frequent stops to check that he has not lost anyone along the way, to see if all the participants still want to walk with him. And if they have taken another path, join them to continue the route together.
Examples, testimonials
"
It was not easy at the beginning to motivate my students to participate in such an approach. The discussion and brainstorming in the group was very low at start, but once they felt they were in a "safe space", and that they could speak freely and expose their opinions, the experience was very interesting and with great results. In an after analysis, students said it was a great way to see the other's perspective and to address issues and opinions they would have never thought about. The major difficulty for me as educator was to create a "free from judgement" discussion space and to refrain from giving my opinion.
"
---